The visit of Prime Minister Guenther H. Oettinger


On February 27, 2006, a large greeting reception was prepared for Olympic metal winner Georg Hettich, Jens Gaiser and Stefanie Boehler in Schonach, Germany.

This great event was topped off by the visit of the Prime Minister of Baden-Wuerttemberg Guenther Oettinger.

Over 6000 visitors were present at this spectacular event at the health resort in the community of Schonach.

In addition to the Prime Minister Guenther Oettinger, the Olympic medal winners and the numerous other celebrities and VIPs attending, Scherer-Security from Schonach was also assigned for protection of this event and we must admit, we accomplished our assignment with pride.

During the entire event, Scherer-Security was in service with a number of Bodyguards.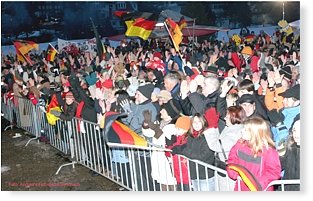 Over 6000 visitors were at the greeting reception of the Olympic medal winners at the health resort in Schonach.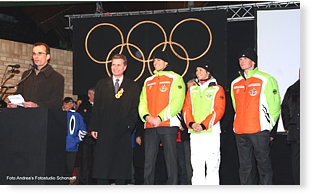 Mayor Frey and Prime Minister Guenther Oettinger with the Olympic medal winners Jens Gaiser, Stefanie Boehler and Georg Hettich. (From the left)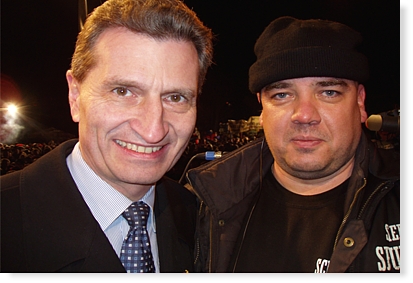 Juergen Scherer with Prime Minister Guenther Oettinger on the perimeters of the event with Olympic champion Georg Hettich and secured by Scherer Security.
(with kind regards and authorized permission granted from the Ministry of State Baden-Wuerttemberg, Germany AZ I-0142.2)
Proprietor:
Jürgen Scherer, Polizeibeamter a.D.
Schwarzwaldstraße 1
D-78136 Schonach - Germany
Tel.: + 49 (0) 7722-91 68 25
Fax: + 49 (0) 7722-91 68 26
Mobil: + 49 (0) 172-627 57 24
E-Mail: info@scherer-security.de